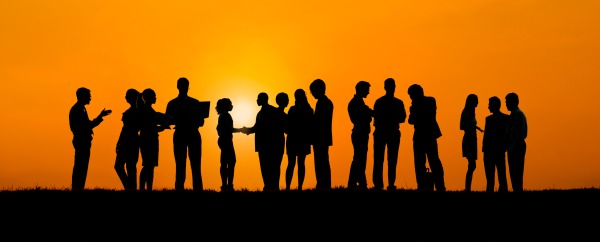 Consider this…you recently met Mary at a networking event and got along well right from the start. You discovered that you have a lot in common and you know many of the same people. And you believe she fits your "ideal client" profile. Mary gives you her business card. What do you do next?
A. File the business card and hope you run into her at another business function.
B. Follow up with an email, telephone call, or hand written note card.
C. Add Mary to all your email subscriber lists, including your daily inspirational quote, your weekly ezine, and special promotion list that goes out to all your customers because you know she would be interested in everything you have to offer and it's a great way to stay in touch.
Creating a Good First Impression
People form impressions of you by looking at the outside and making an assumption about what's on the inside. In fact, 90% of people form an opinion within ten to forty seconds upon meeting you. And once they draw a conclusion about you, they are reluctant to change their minds.
An effective first impression shows consistency between your words, actions, and how you look. So you dress your best to fit the occasion when you attend a networking meeting or a sales call and you choose your words carefully. In other words, it takes time and effort to create a great first impression.
Your Next Step Leads To The Second Impression
Your next step, choosing A, B, or C above, creates your second impression…and hopefully you've chosen B as your option.
Just because you met someone at a networking meeting, and you received his or her business card, does not give you permission to add that individual to your list. In fact, that is why we have opt-in lists and permission-based marketing. It is their choice…and with the CASL regulations in Canada, it's the law!
I have several email addresses to make marketing various products and services easier. Often, I have been added to other people's newsletter lists four and five times (once for each email address) and I know I did not add myself with every email address.
Adding anyone to an ezine or subscriber list without permission will quickly and permanently destroy a great first impression. It's annoying. It's unprofessional. And it's unethical. This is not the way professionals work to build their lists.
Instead, you could follow up with a note including something of value, and then mention your ezine and the benefit she'll get by reading your words of wisdom. Include a link to subscribe. Ultimately, it's her choice.
Another point of contention for Facebook users is being added to a "Friends" group without permission. Again…this is the second impression. The first impression was creating the "friend" connection so don't blow it by adding someone to your group – no matter how great your group is. For the time being, Facebook allows this practice but people are fighting back…and simply "un-friending" abusers of this practice. This means, you've lost the connection – and probably forever.
Online marketing is here to stay – and who knows how it will evolve in the years ahead – but business ethics and privacy issues must be considered if you want to be known for your professionalism.