Marketing Strategies that Work!
Original Post EmbedSocial, July 27, 2023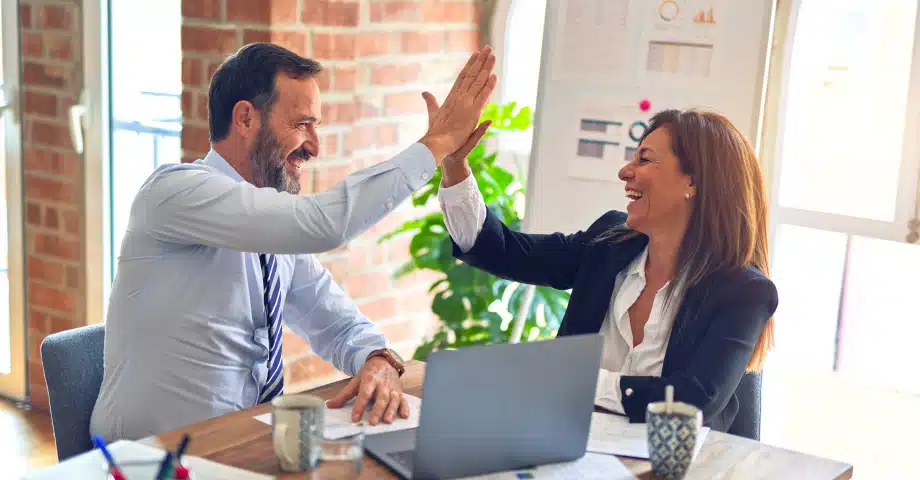 Customer success stories give potential customers a unique perspective when deciding to buy a particular product or service. Therefore companies with strong customer advocacy programs have a 35% higher retention rate.
As a result, it's now a common practice for marketing teams to ask customers to share their real-life experiences and positive results with their products or services.
In the following text, you will learn how to write customer stories and how to reuse them on your website.
Success stories benefits
Before we dive into sharing some practical examples, let's cover the basics first.
Customer success stories open the doors to a plethora of benefits, including:
Driving conversions: customer success stories are one of the most important bottom-of-funnel types of content that have the potential to influence your customer's purchasing decisions significantly. It's because this type of content showcases the value and tangible benefits of your service/product.
Engage and educate prospects: educating potential customers through content created is essential, especially when discussing complicated and/or expensive services/products. In this case, success stories will serve as engaging content that will educate prospects about your product's capabilities, features, and benefits; and help you build trust.
Fuel marketing and sales efforts: in addition to their initial creation (their written form), customer success stories can be repurposed across various channels to maximize their impact. By repurposing, they can be used for versatile marketing campaigns, for the sales team to create and use sales collateral, used as part of the website elements (as social proof), and across social media platforms. This way, regardless of the channel your prospects use, you can effectively reach and engage them with compelling narratives highlighting the real-world benefits of your service/product.
The anatomy of a success story
Now that you're aware of the benefits, it's time we decompose the seven key elements that every success story is made of.
1. Introduction
A great introduction is an essential element in such an important type of content. Make sure you keep your intro short and engaging because you don't want to lose the attention of the people that came as far as reading your success stories.
In this part – you can introduce the company that you're writing the case study for and share the company name, industry, where the headquarters are, and its size.
2. Challenge – Before your solution
The second part of every customer success story is sharing your customer's story before they find your solution. Connect to the audience reading and focus on describing all the pain points they had and what was lacking (structure, workflow, etc.).
Pro tip: besides using customer's quotes, make sure you also paraphrase what your actual customer said and use similar copy so that you can "speak" the language of the potential customers that read these stories. Make them feel like you truly understand them and can relate to the problems/challenges they are facing.
3. Results – After your solution
Now that you have your intro and discussed the problems your customers used to have – it's time you focus on the "life after your solution." This is the section where you get to "prove" the true value of implementing your product or service. Besides the quotes, the most impactful way to influence people to read would be to make the story data-driven. Ensure you pull customer success metrics showcasing increased sales, reduced time and resources, improved efficiency, and reduced costs. Showcasing this data will help you reinforce the message that prospects can do the same thing.
Pro tip: make sure you also reflect these stats in the header copy.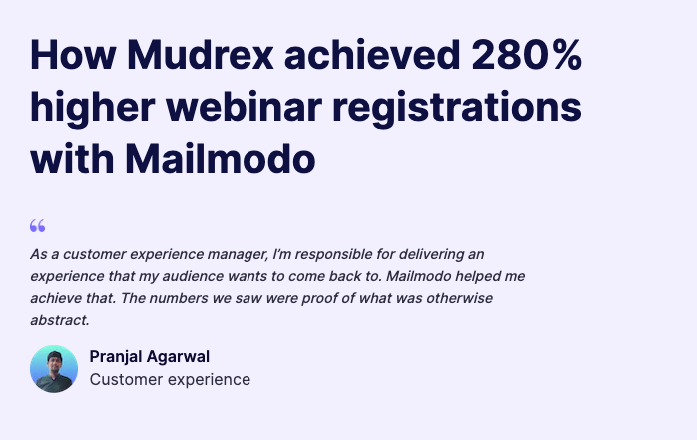 Additional Elements – Quotes + Visuals + CTA
These three elements are the "cherry on top" when creating your case study.
When placed prominently, the testimonials can not only influence the reader but also provide the reader with a "visual break" from reading all that text.
Visuals because, again, not every prospect has the time and/or patience to read through everything. So ideally, make sure you create and include data visualizations to illustrate the results. In this way, prospects can understand your product/service impact within a few seconds.

The CTA Button, though positioned last, is of equal importance as any other element. A compelling call to action is essential for every success story, as it urges prospects to progress to the next stage of the funnel. After consuming the content, it is crucial to direct their actions accordingly.
Would you like them to kick off a trial, schedule a demo, or participate in a webinar? Ensure a prominent placement of the CTA button, guiding prospects seamlessly toward the next step in your sales funnel.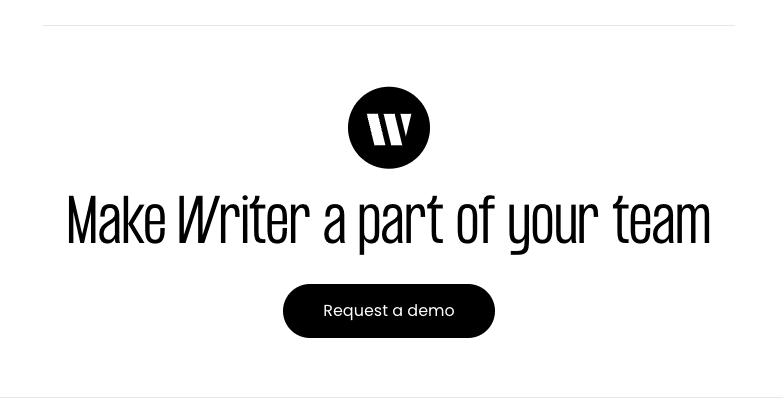 The process of creating a success story
Now, we're moving on to the most important part – the how. This section will cover the process of writing success stories that drive growth.
So without further due, let's dive into the six-step process!
Step 1: Identify ideal customers for a success story
The first and crucial step is identifying the right customers for your success story.
Here's a bullet list that will help you identify these customers:
are aligned with all the customer research personas you have done in the past
are aligned with the audience you want to target (they faced the same challenges in the past)
have been your customer for a long time
are brand advocates and are recommending you to others
have spent a fair amount of money on your product/service
have achieved significant results/benefits using your product/service;
and lastly, are willing to share their story
Step 2: Write interview questions
The next step is composing the interview questions. Think these questions through because asking the right question will literally determine how effectively you can shape your customer success stories.
Here are some questions that will serve as guidance:
What made you choose our product/service over other available options?
What challenges were you facing before using our solution?
How has our product/service helped you overcome those challenges?
Can you provide any metrics or data that demonstrate the impact of our offering on your business?
How would you describe the level of support and assistance you received from our team during the onboarding process?
Have any specific features or aspects of our product/service made a significant difference for your business?
Can you share any unique use cases or innovative ways you have applied our product/service to achieve your goals?
How has our product/service influenced or improved your relationship with your own customers?
Have you recommended our product/service to others, and if so, what feedback have you received from them?
How would you describe your overall experience with our company?
Remember that these are basic questions that will help you "get the ball rolling." Take these up with your team, and make them more relevant according to your product/service, industry, and target audience.
Ensure you capture the journey from their initial encounter with your product/service (the product awareness and discovery stages) to how and why they decided to purchase your product.
Step 3: Reach out to customers to ask for a success story
The third crucial step involves contacting customers professionally yet friendly to establish a genuine and trustworthy connection. Given that these individuals are already your valued customers, it's essential to encourage them to share their experiences and insights openly.
Here's how to do that:
Personalize the e-mail – address the customer by name and create that bond we've already mentioned
Explain the purpose – explain why you're reaching out and why you want to feature their success story (in order to inspire others)
Offer support and assistance – offer to help with the interview questions/process and make sure you provide any additional guidance.
On top of these steps, here's a sample e-mail you could customize and send to customers for this purpose:
Subject: Share Your Success Story and Inspire Others!
Dear [Customer's Name],

We hope this email finds you well. At [Your Company], we have been overjoyed witnessing your remarkable achievements since embracing our [product/service]. Your success story has not only inspired us profoundly, but we firmly believe it has the power to motivate countless others to embark on a similar path to success.

We would be honored if you could spare some time for a brief interview to capture your journey and experiences with [your company]. Your insights can help us demonstrate the real value we provide to our customers.

To make the process seamless, we have thoughtfully prepared a set of interview questions that won't take more than 15 minutes to answer. However, we are also open to any preferences or ideas you may have, and we'd be more than delighted to accommodate them.

Thank you for considering our request. Looking forward to hearing from you.

Best regards,

[Your Name]

[Your Title/Position]

[Your Company]
Step 4: Write the success story – 5 Tips on How to write a success story
In step four, we will provide you with five practical tips on writing an engaging customer success story that will captivate your audience and showcase the value your product or service brings to your customers.
Follow these guidelines to create a powerful and persuasive customer success story:
1. Highlight relatable problems
One of the best ways to instantly connect with your prospects is by highlighting your customer's initial challenges before they find your solution. This will create empathy, resonate with your potential readers, and make them feel you truly understand them.
2. Focus on the customer's journey
Take your readers on a journey with your customer, from the initial problem they encountered to the discovery of your solution. Narrate the steps they took in their decision-making process, and emphasize how they found your product/service as the answer to their needs. Including specific milestones and turning points adds depth and authenticity to the story.
3. Build the story around data-driven results
Within the process of writing your customer stories, make sure you also back up the narrative with concrete and measurable outcomes achieved by your customers. These types of data points showcase tangible results and add credibility to how effective is your offer/product/service.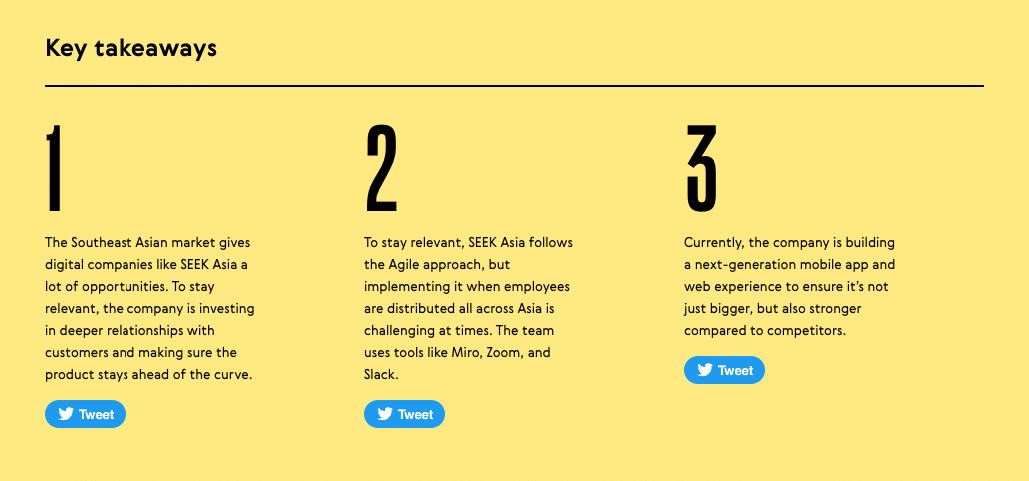 4. Use concise, clear language to tell a story
This tip is simple but equally important – maintain a clear and straightforward writing style. Steer clear of jargon or overly technical terms that might confuse the reader. This is the type of content that every website visitor should be able to understand easily and "digest," and it is of utmost importance that they can grasp its message effortlessly.
5. Write the story using a standard outline
As a last step, we want to suggest you organize the success story in the usual way your readers expect to see it. Have a clear introduction, a body filled in with the customer's journey, and a conclusion that showcases your product's impact. Throw in the visuals + quotes + call-to-action, and you'll have an engaging and persuasive narrative that leaves a lasting impression on potential customers.
By presenting your customer success story in this well-structured manner, you'll effectively highlight the benefits of your product or service, build trust with your audience, and ultimately drive more conversions and business growth.
Step 5: Share customer success stories
Writing a case study is a super valuable marketing activity for your business, particularly for engaging website visitors.
However, why stop there?
Take it to the next level by repurposing and distributing your case studies across various channels. By doing so, you can magnify the impact they have and reach a broader audience, ultimately boosting your brand's visibility and driving even greater results.
Here's how:
Turn quotes and visuals into social media graphics
Among the first things you could do is repurpose your case studies for the social media channels. Create visually appealing graphics either by re-using quotes or some stats or maybe even benefits from certain features, and share them across your social media platforms to attract more leads.
Pro tip: you could also re-target certain website visitors (like those visiting your pricing page), with visual ads from your success stories that showcase the impact of implementing your product or service. This will give them the additional "push" they need to make a purchase.
Send Your customer story to your email list
Another thing to do is forward your success stories to your e-mail subscribers. Providing your subscribers with social proof will help you straighten your relationship and attract more prospects.
Add customer quotes to press releases
Lastly, you could also incorporate powerful customer quotes into press releases to gain media attention and showcase your company's value.
Bonus step: Ask for video testimonials
If you want to take your customer success stories to the next level, you could also request a video testimonial from your customers. This type of content is authentic and will help you build trust among your leads. However, remember you might need a certain type of reward or incentive to persuade your customers to put in the effort.
12 Unique approaches to gathering and presenting customer success Stories for Your Website
In the quest to craft compelling customer success stories for your website, we've gathered insights from 12 industry experts, ranging from heads of marketing to CEOs. Their creative strategies span from the importance of timing to the use of hard data to lend credibility to success stories. Dive into these unique perspectives to enhance your approach to customer storytelling.
1. Timing: The key to customer feedback
At Freetour.com, we've always understood the power of customer success stories and testimonials. We tried asking for stories via thank-you email or motivating them with discount codes. Yet, none of these methods really hit the mark.

The game changer was timing: we found out that travelers are most likely to share their feedback on the same day they had a free tour and then again in seven days, likely when their journey ends. This strategy allowed us to capture their experiences fresh and then reflect on their overall journey after a week.

It works because it keeps the trip at the forefront of their minds, and the delayed second request adds another touchpoint. Regardless of your industry, consider the optimal time to ask for feedback from your clients to double or even triple your effectiveness.Alexandra Dubakova, Head of Marketing, Freetour.com
2. Detailed conversation: Do the work for them
You start at the beginning with a conversation. What was going on in your customer's life before they bought from you or worked with you? What wasn't working? You should know some details since they are your customer, but you'll want to dig deeper. For example, if you're a wellness practitioner and your customer could barely walk a block to pick up the mail, share how they felt. What were their exact limitations?

Then share how your product or service "fixed" their problem, but keep the story from your customer's perspective, not yours. And finally, share how their life changed after working with you. You can get these details in a quick phone call, but take notes to make sure you get everything. Then ask if you can use this information in a customer success story.

Instead of asking your customer to put it in writing, you draft the story and send it to them for approval. You take the work out of it for the customer, and you have a great success story to showcase your brand.Susan Regier, Copywriter, Brand Storyteller, Marketing Strategist, Speaker, and Internet Marketing Expert, Vantage One Writing
3. Thank-you baskets: A personal approach
We adopted a personal and surprising approach to gathering impactful customer success stories. Instead of a simple request, we send some clients a thank-you basket filled with snacks and tokens of appreciation. We include a heartfelt handwritten letter alongside the treats acknowledging their contribution to our mutual success.

In the letter, we subtly incorporate talking points about their journey and the results achieved. This nudges them towards providing a testimonial that's data-driven as well as emotionally resonant. This method proved successful when a client returned the favor, surprising us with a detailed success story after launching their new website, perfectly mirroring our approach!Kevin Hall, Marketing Operations, Webserv
4. Spotlight challenge: Engaging customers creatively
At our company, we believe in celebrating our customers' success stories with an innovative approach. To source a captivating tale, we embark on a delightful adventure by organizing a "Customer Spotlight Challenge."

We invite our customers to share their experiences through engaging videos, heartwarming anecdotes, or striking visuals, and provide incentives if necessary. This allows us to showcase their achievements and the value they gain from our service. Following this, our talented team of writers craft an interesting narrative, carefully weaving in their triumphs, challenges, and how our solution transformed their business.

By infusing creativity into this process, we bring forth authentic and captivating stories that inspire and resonate with our website visitors.Harry Morton, Founder, Lower Street
5. Interactive surveys: Capturing detailed insights
A creative way to ask for a customer success story is by creating an interactive survey or questionnaire that prompts clients to share their experiences. At Stratosphere, a customized survey was developed that included specific questions about our client's challenges, the solutions we provided, and the measurable results they achieved. The survey was made engaging and easy to complete, ensuring that it captured interesting and detailed insights.

In a recent example, one of our clients was convinced to share their success story on our website by emphasizing the benefits and visibility their business would gain. They were assured of professionally written content, prominent brand exposure, and promotion on our social media channels. This approach successfully obtained their consent, enhancing our website's credibility and attracting new clients.Casey Preston, CRO and Founder, Stratosphere
6. Before and after: A dramatic contrast
At our company, we employed a "before and after" approach. It was like staging a captivating transformation scene in a play, but this was real life. We began by detailing the initial online reputation woes of the client, weaving a relatable narrative that was sometimes riddled with online missteps or unfortunate public gaffes.

Then, we painted a picture of the revitalized digital persona we helped create. This dramatic contrast, effectively displayed on our website, wasn't just appealing; it felt like an authentic journey.

I recall a client, a small business owner, who went from nearly shutting down due to negative online reviews to flourishing with a five-star rating. Sharing her story using this "before and after" style resonated deeply with our site visitors, showing them that change was indeed possible.Alexandru Contes, Co-Founder, ReviewGrower
7. Authentic experiences: Offer more than validation
Customer quotes in press releases don't merely offer validation; they allow our audience to resonate with authentic experiences. I remember when we launched the "Healthy Bites" campaign for a local organic café.

We included a vibrant quote from a loyal customer, "Healthy Bites revolutionized my lunch breaks; it's health and taste in one plate." It was eye-catching and formed an emotional connection with potential customers.

That press release quickly morphed into a heartwarming success story on our website, with readers relating to the customer's journey. This perfectly illustrates how customer quotes bring life and color to our narratives, transforming them into relatable stories.Josh "Snow" Elizetxe, Founder, Customer Feedback
8. Video interviews: Capturing enthusiasm and passion
One creative approach is conducting a video interview with the customer and visually appealing showcase their story. We recently implemented this approach with one of our clients at Click Intelligence. We reached out to them and explained our intention to feature their success story on our website.

Instead of a traditional written testimonial, we suggested conducting a video interview where they could share their experience and the results they achieved with our services. During the interview, we focused on capturing not just their words but also their enthusiasm and passion.

We asked open-ended questions to allow them to delve into the details and share specific examples of how our services made a difference in their business. We also incorporated visuals and graphics to enhance the storytelling.Simon Brisk, Director, Click Intelligence Ltd
9. Interview style: Relaxed chat for success stories
I like to ask for and write a customer success story creatively by using an interview style. It feels like a relaxed chat, which helps the customer open up. I start with simple questions like, "What challenge were you facing before you used our product?"

Then, I dive deeper, asking, "How did our product help solve that problem?" or "Can you share a specific instance where our product made a difference?" I keep it conversational and let them share their experience in their own words.

Ultimately, I turn this interview into a story that sounds human and relatable. It's like you're sitting down with a friend, hearing how our product helped them. It's a simple yet powerful way to tell a success story.Irina Poddubnaia, CEO and Founder, TrackMage
10. Affiliate program: Gathering stories for free
For CoinLedger's website, we came up with a unique approach. By creating an affiliate program, we engaged webmasters and influencers. They knew from experience that personal case studies resonate with audiences.

So, they eagerly took to YouTube videos, podcasts, and blogs to recount their personal journeys with CoinLedger. As a result, we got dozens of engaging customer success stories for free. This strategy not only helped others earn but also enhanced our brand image with real-life success stories. Indeed, a mutual triumph.David Kemmerer, Co-Founder and CEO, CoinLedger
11. Three-step approach: Charm, narrative, humor
Here's a creative approach that'll have customers lining up to share their experiences faster than a penguin sliding down an icy slope.

Step 1: Sweet-talk your customers like Shakespeare wooing Juliet. Ask them for their tale of triumph with a dash of charm and genuine curiosity.

Step 2: Whip up a captivating narrative that makes readers fist-pump in delight. Think, "Harry Potter meets real-life business heroes." Keep it engaging and sprinkle on juicy data points like, "Our client, Acme Corp, skyrocketed their sales by 200% in just three months!"

Step 3: Add a pinch of humor to keep things light and delightful. Think of it as sprinkling fairy dust on your words!

For example, take our client, BigMouth Burgers. They went from burger rookies to patty-slinging champions, gaining a cult following faster than their fries could get cold! So, go forth, dear publisher, and spin those customer success stories into gold! Let the magic begin.Himanshu Sharma, CEO and Founder, Academy of Digital Marketing
12. Hard data: Lending credibility to success stories
In the role of a digital marketing agency owner, the best way to shape interesting customer success stories has been through the lens of hard data, lending credibility to the narrative. A technique that has been used with success is starting the conversation by asking the client, "Could you share an instance when our services transformed a metric you care about?" It's crucial to give clients the freedom to choose the parameter, as it adds authenticity to the story.

For instance, with a long-standing client, a local bakery, this very question was asked. They responded enthusiastically about how a targeted social-media campaign skyrocketed their weekend footfall by 35%. Their success story was built around this data, highlighting how the strategies improved numbers on a screen and brought more lively chatter and the enticing aroma of fresh bakes to their storefront every weekend.Joe Troyer, CEO and Growth Advisor, Digital Triggers
10 Customer success stories examples
Example #1 – Slack's website + dedicated page
For starters, we can take Slack's example and draw inspiration from their website, where they repurpose a customer success story to showcase their tool's impact on a customer's team's communication. On top of re-using their success stories, they also have a dedicated page for them.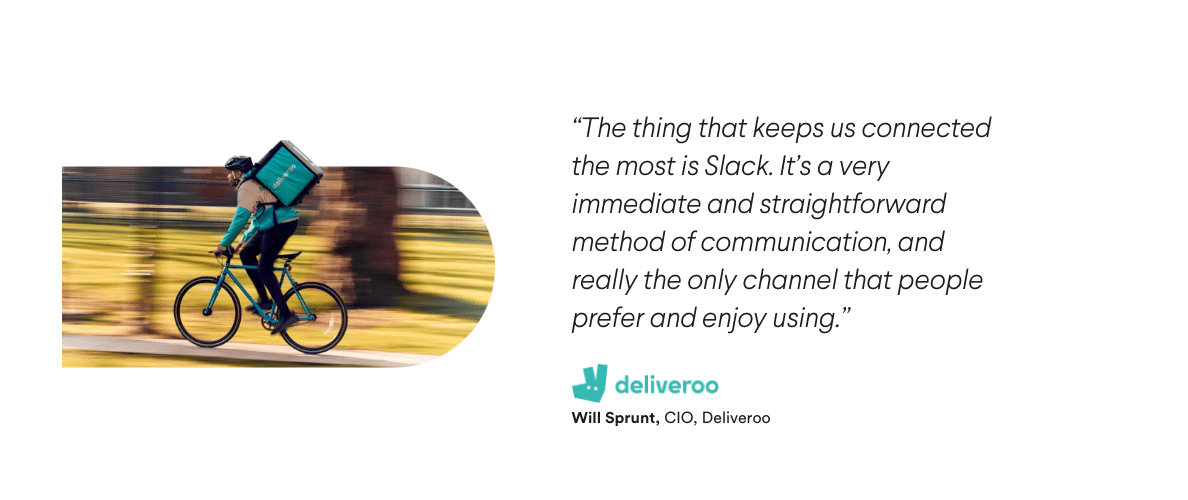 Example #2 – Stripe
Our second example is Stripe – their customer success specialists did an amazing job in creating a super impactful and easy-to-read layout. In the screenshot, you can notice the elements of every compelling customer success story.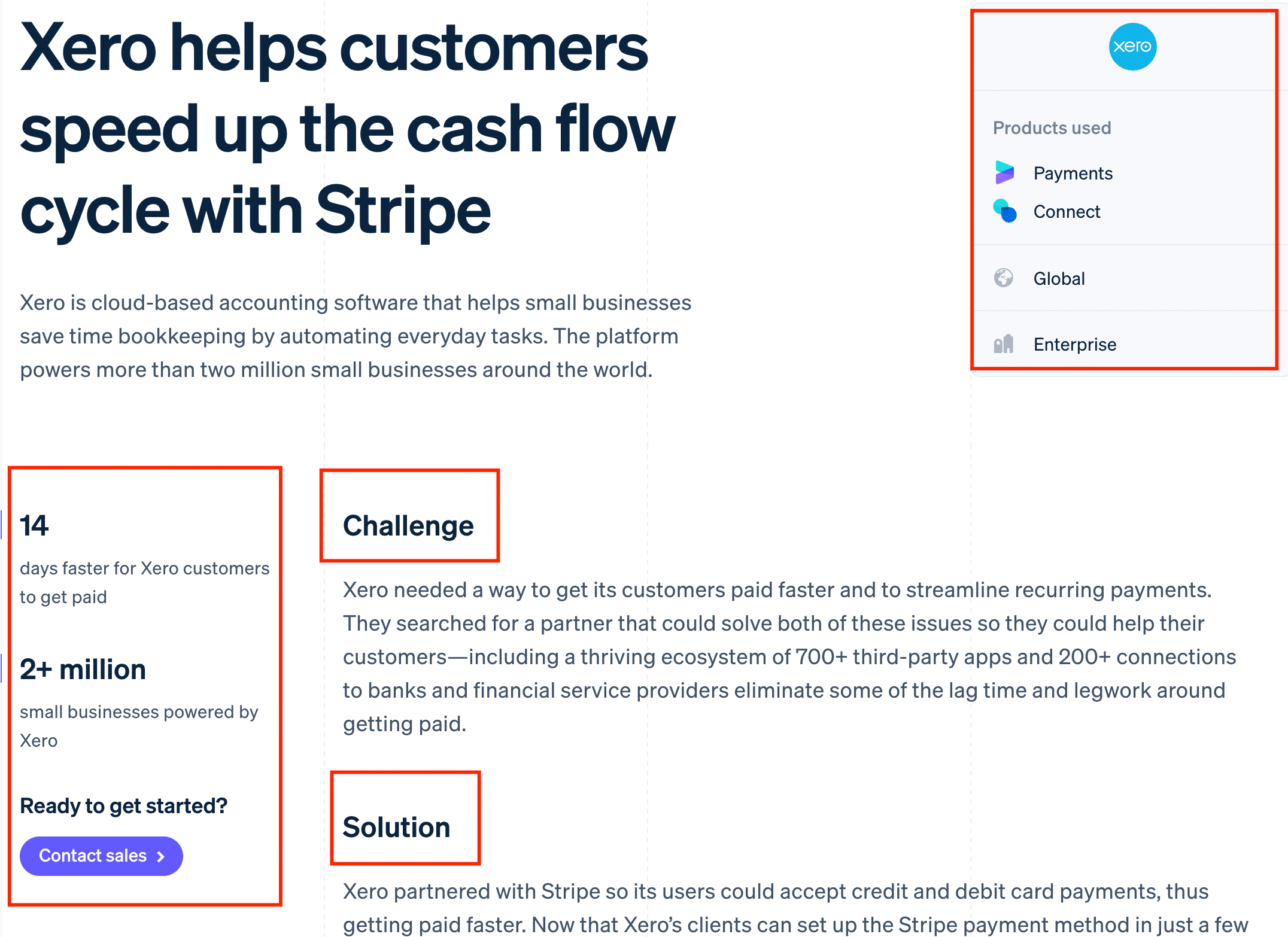 Example #3 – Airtable
Yet another great example comes from the B2B industry – the company and software Airtable. What we could take from their customer stories is the way they emphasize the quotes from their customers.

Example #4 – Semrush
Our next example comes from one of the pioneers in the marketing software industry – Semrush. In this case, we won't go into how their success stories are written or structured – but we'll have a look at their client's company landing page and, more specifically, the copy on it. Have a look at how impactful their header is.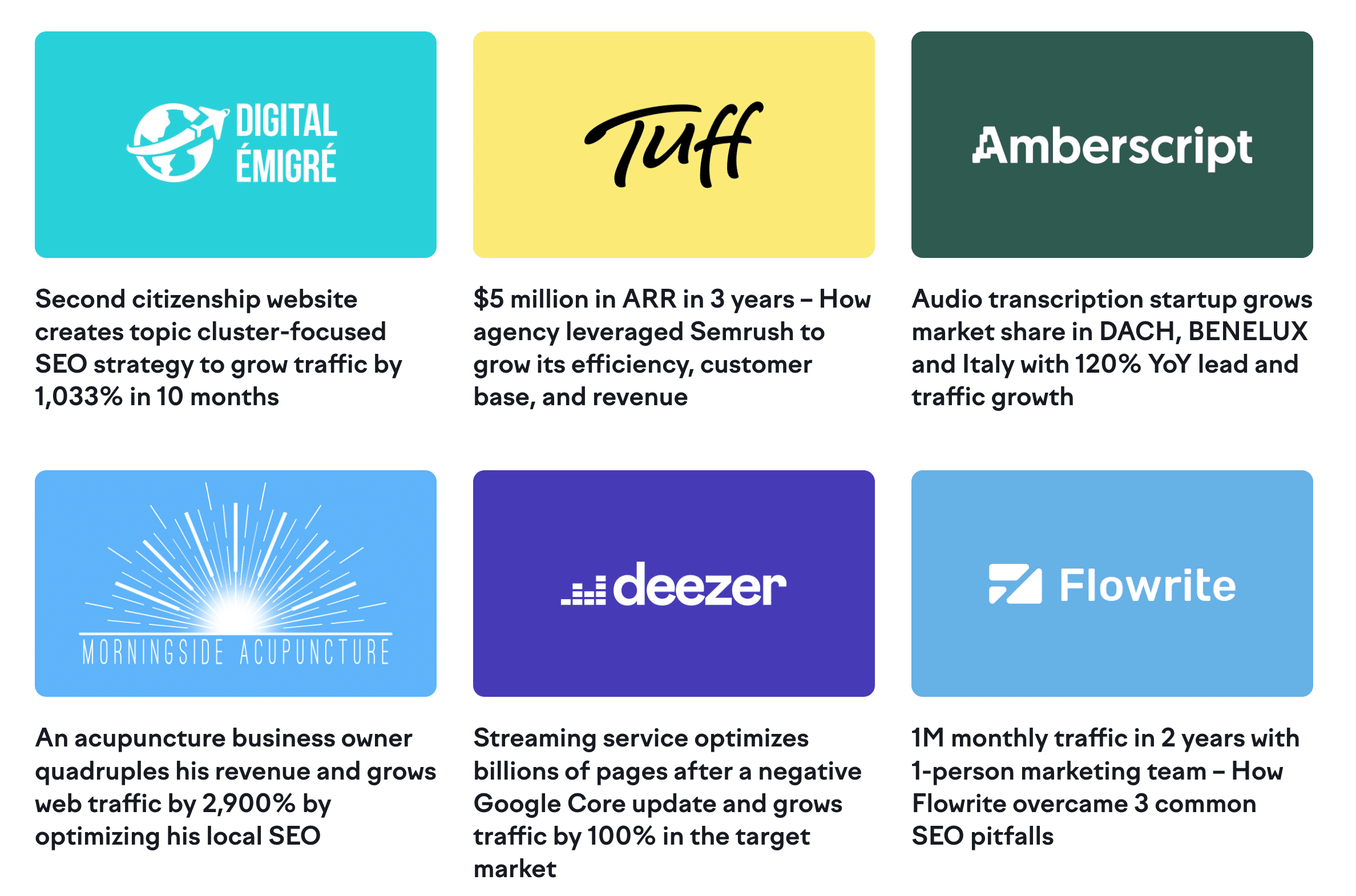 Example #5 – Writer
The fifth example is yet another AI tool called Writer.
In the screenshot itself, we can see a great example of how to re-use your customer's experience with your product or service and share it across the menu of your website too. As we mentioned, this content is crucial in the purchase-decision process, so the more prominently you place it, the bigger chances it's gonna be read (and influence your readers).
On top of this, you can also see that their "customers" landing page is right there in the navigation, which makes the discovery process even easier for the readers.

Example #6 – Salesforce
Our next customer success story example comes from Salesforce.
A lesson we can learn from how they create their case studies is the way they structure them. Notice how for every header section they write, they also add a visual element to it to make the content easier to read.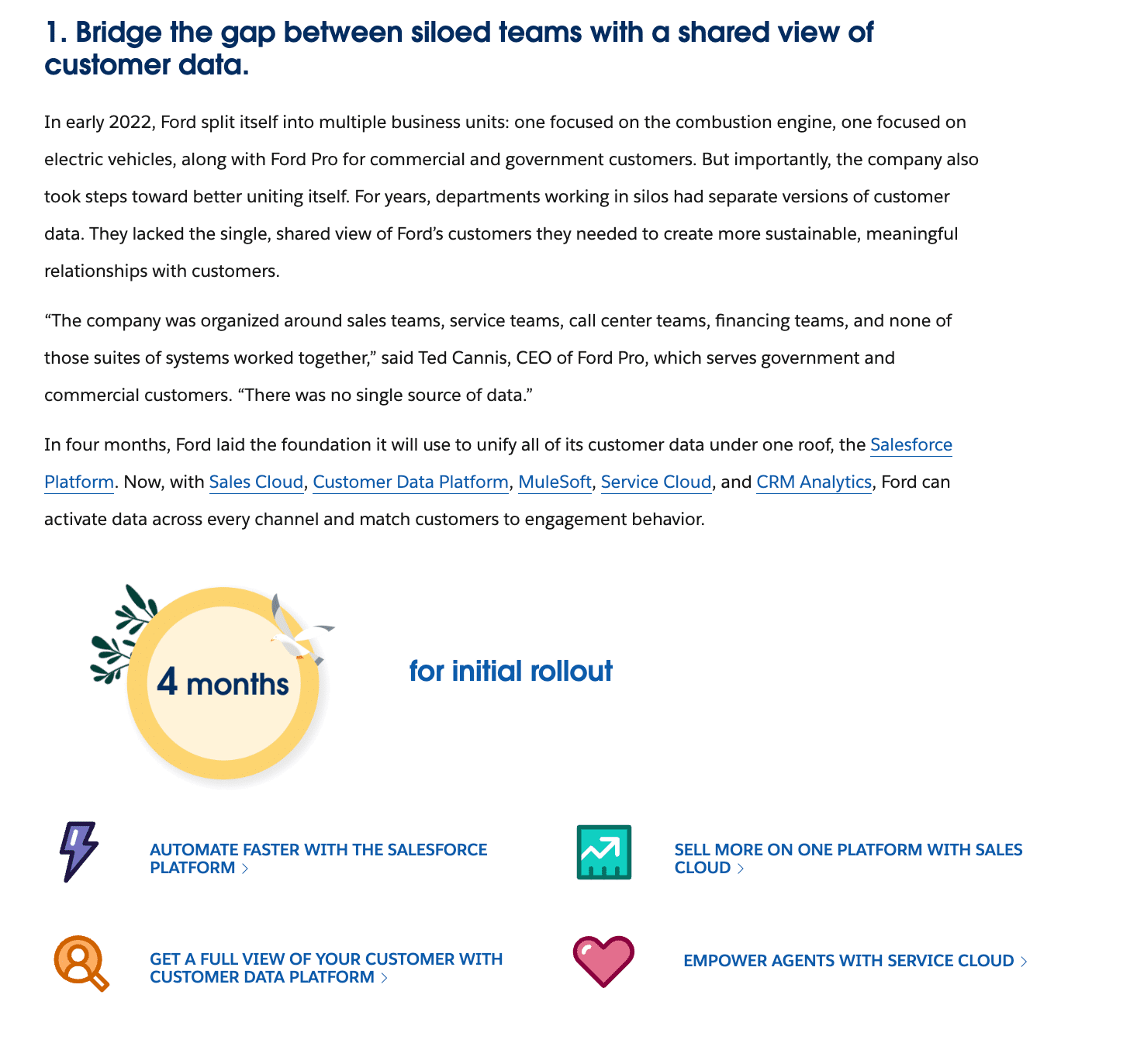 Example #7 – Miro
In this example, we will break free from the traditional format of a customer success story and share one done in a video format.t with you.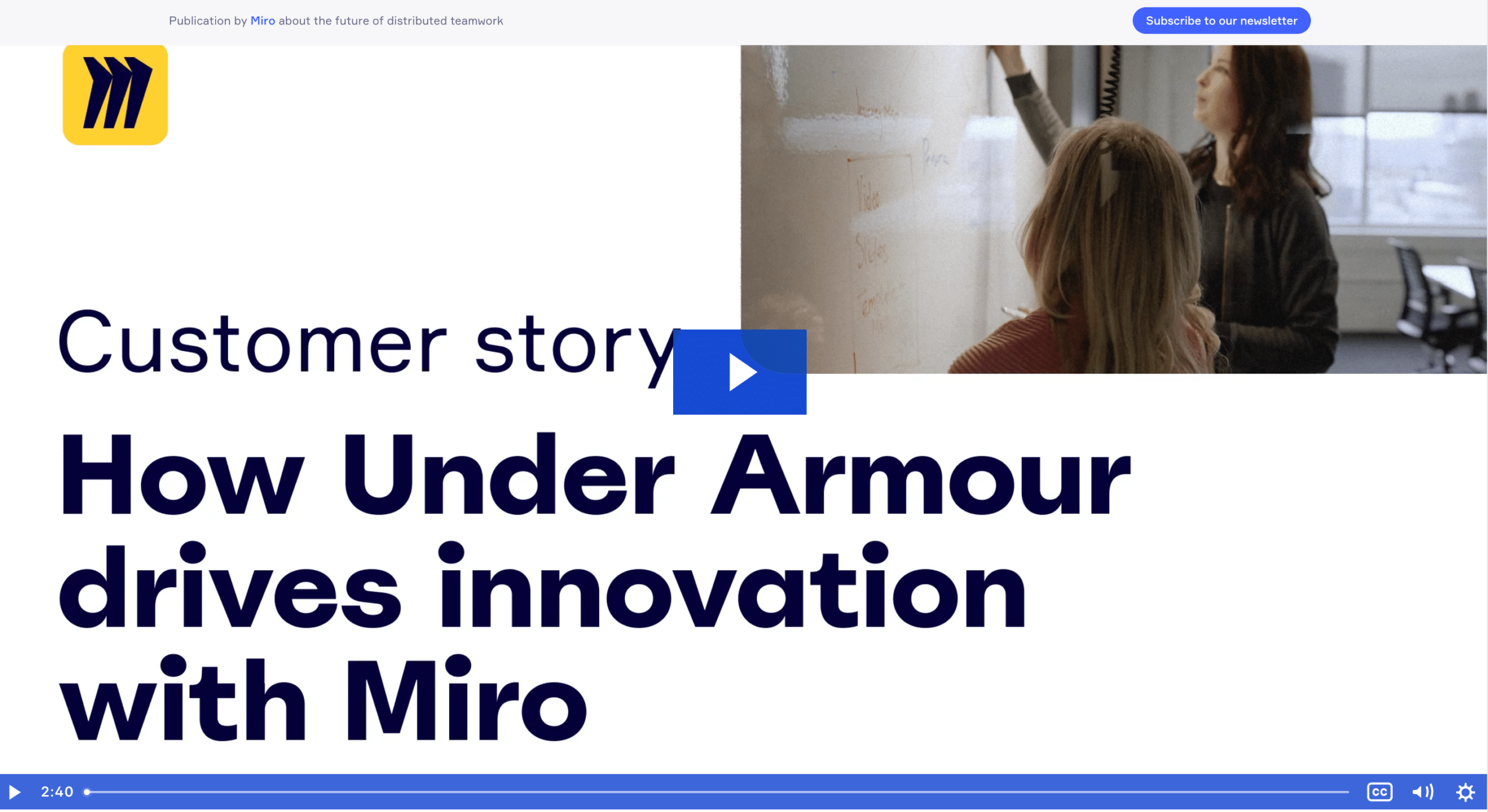 Example #8 – Adobe
The next example comes from a pioneer in the industry and a powerful tool – Adobe.
Their customer stories are a combination of a great story, and visually outstanding customer quotes, showcasing the main client's problem but also prominently showcasing their product's features and benefits in a way that other prospects understand the impact.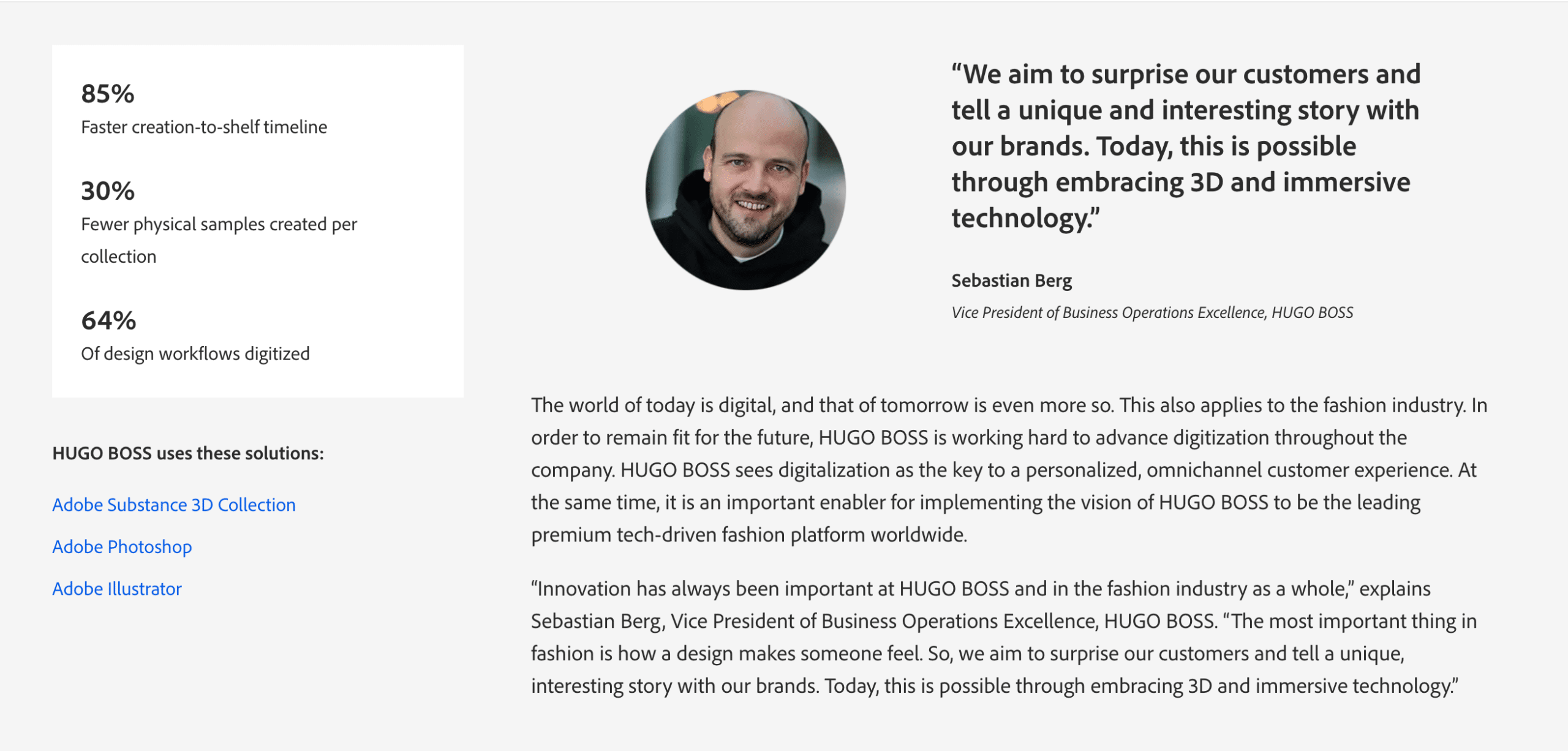 Example #9 – Lenovo
This example comes from a company in the e-commerce industry, and in the screenshot below, you can see how you, too, can sort your customer stories in case you're selling versatile products or services across different industries and regions.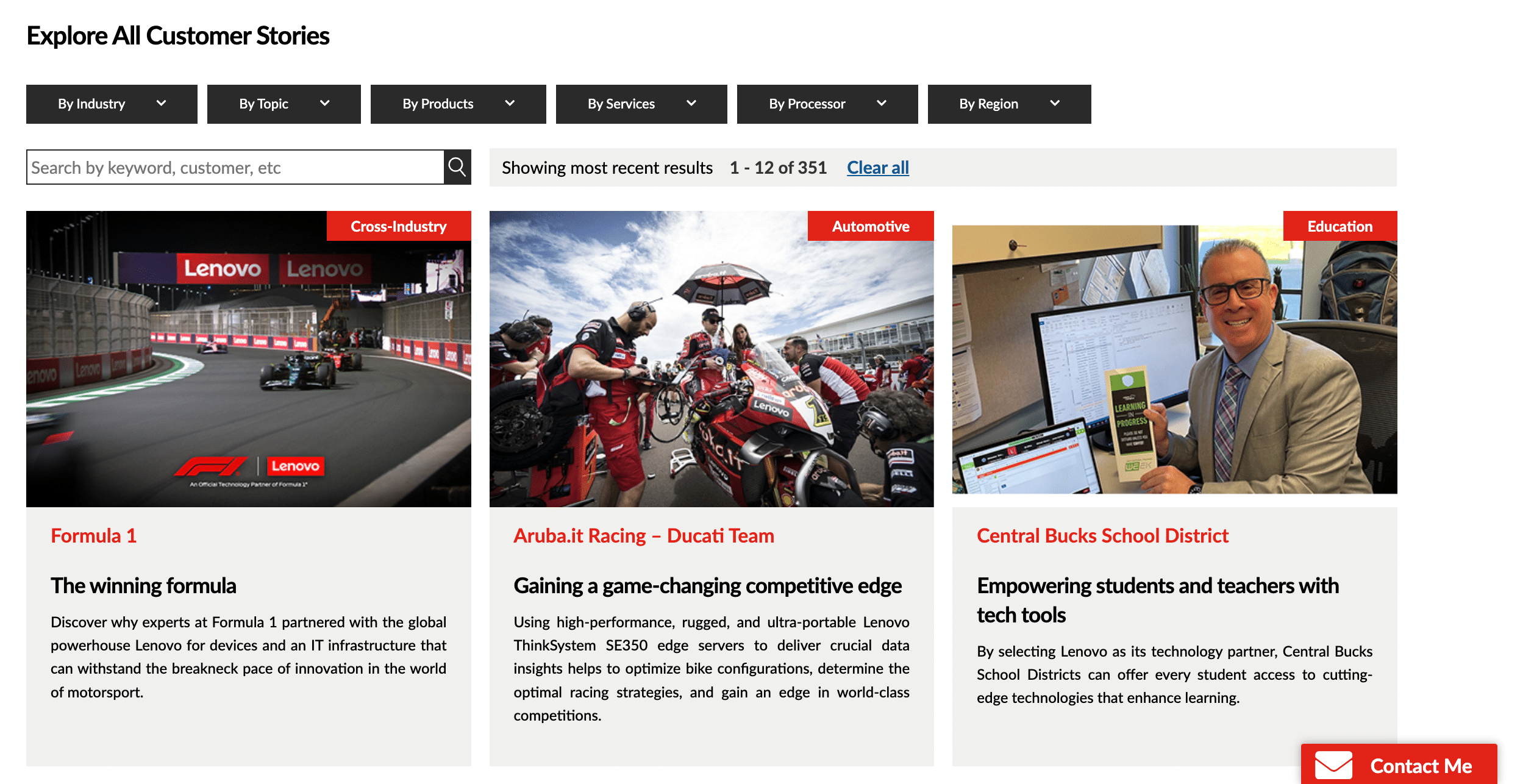 Example #10 – Google
The last example is from a mogul we all know in the B2B industry – Google.
We've placed this example as a statement that every company can benefit and feel the impact of creating customer success stories, no matter how big or small.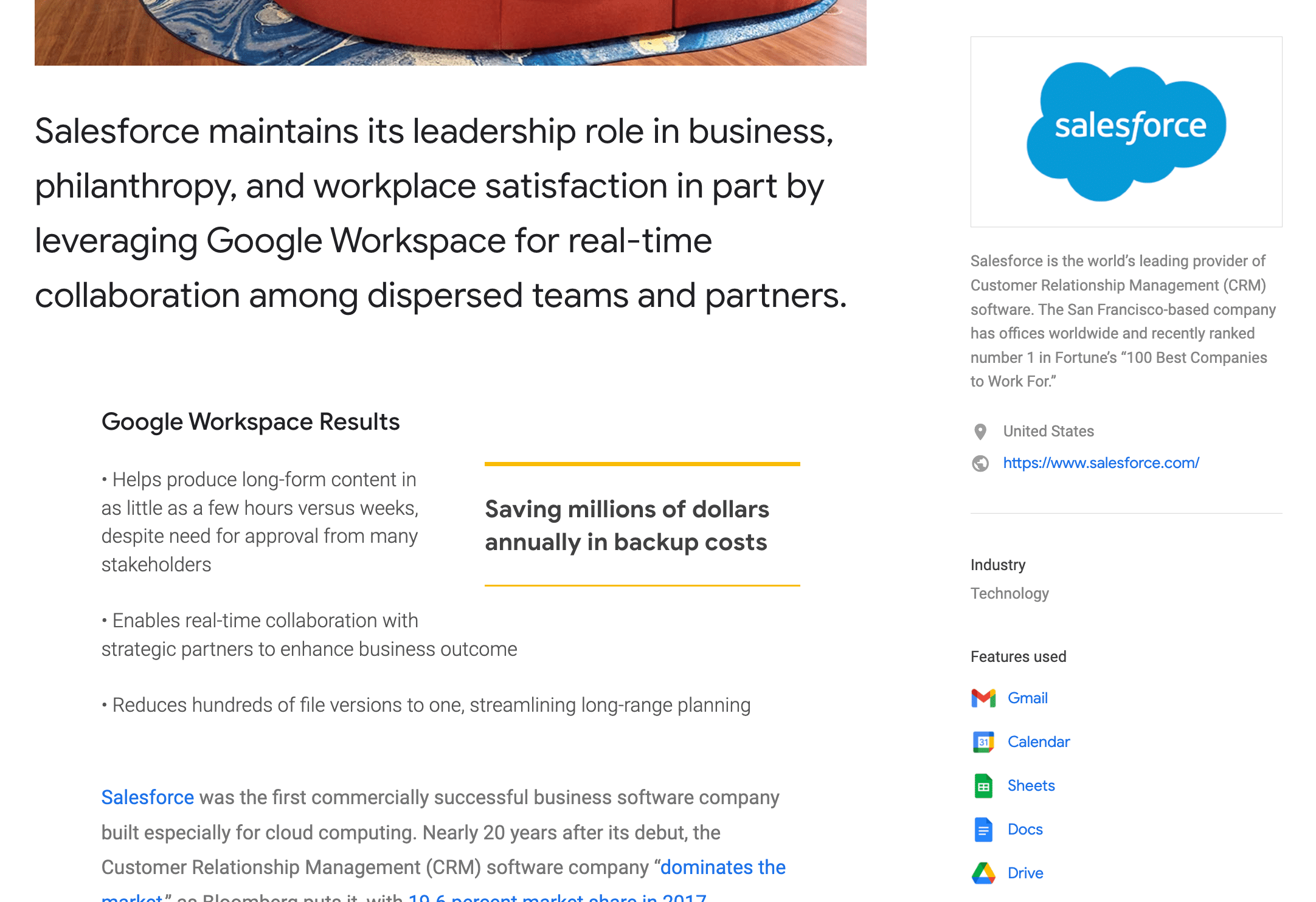 Free customer success story template
Slowly we're coming to the end of our guide, so in order to simplify things even more, we are sharing a customer success story template.
This template contains the structure of each success story + bullet points of what you need to write in each section.
Company Information
In this section, you need to gather and share information about the customer's company, such as:
Company Name:
Industry:
Company size:
Location:
Website:
Contact Information
Problems/Challenges
Under this second section, you need to have information such as:
Describe the problems the customer was facing before using your product/service.
Highlight the pain points they encountered that needed a resolution.
Explain how these challenges were influencing their business and business workflow, day-to-day tasks, and even overall workflow.
Solutions
Next up is describing how your product helps solve these issues they face. Here's a quick overview of what to include:
Present the product or service offered to the customer.
Describe how the solution addressed their specific problems.
Emphasize the key features or benefits that proved most effective.
Collect and showcase important data points
Quote
As the last element of the template is placing a quote, here's what to pay attention to:
Include a powerful and inspiring quote from the customer, expressing their satisfaction with the results achieved.
Ensure the quote reinforces the value they gained from using your product or service.
The quote should be concise yet impactful, capturing the essence of their success story.
Conclusion – What makes strong customer success stories?
Customer success stories are a powerful tool that can significantly impact a business's success. By showcasing real experiences and positive outcomes, these stories build trust, credibility, and emotional connections with potential customers. The importance of writing compelling success stories lies in their ability to demonstrate the value and effectiveness of your product or service.
Displaying these stories on your website provides compelling social proof influencing purchasing decisions and increasing sales.
We hope with this guide, we inspired you and made it easier for you to start writing your customer success stories, embrace their potential to engage, and convert leads into loyal customers, elevate your brand, and drive long-term success in the market.
Get Your FREE Guide!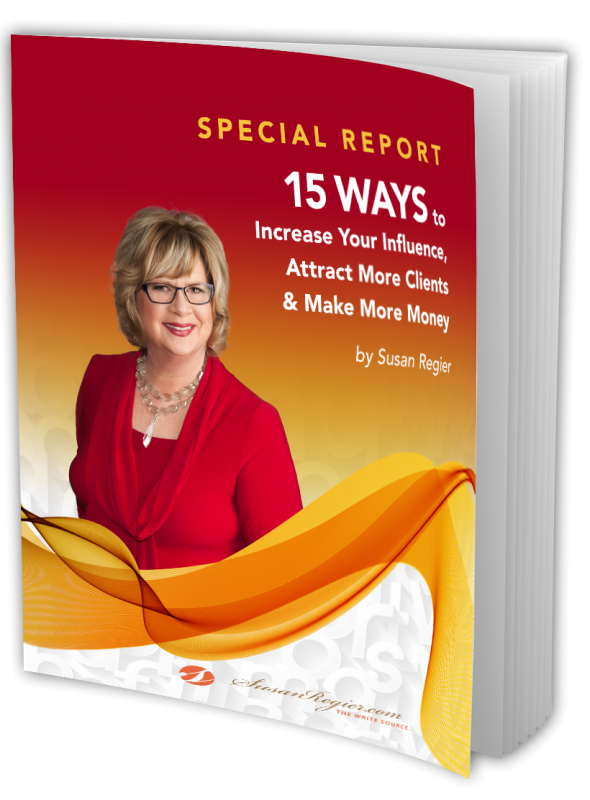 Want To Use This Article On Your Ezine/Blog/Site?
You're welcome to share this article. When you do, please include this complete blurb with it:
Susan Regier, owner of Vantage One Writing, is an in-demand copywriter, marketing strategist, and business breakthrough specialist to ambitious entrepreneurs who want to have a profitable business they are passionate about. She has the uncanny ability to find the hidden gems in a business that can ignite sales and profits for her clients. Claim your free guide: 15 Tips to Increase Your Influence, Attract More Clients & Make More Money at SusanRegier.com.